APEX-TX5 diet pills are manufactured in a facility in the United States. Each tablet contains a proprietary formula composed of only premium quality, clinically researched ingredients. The pill is easy to identify as it is white with red and blue specks.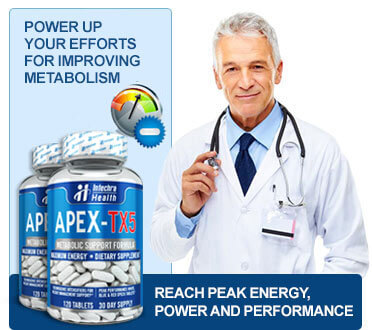 What Does APEX-TX5 Do?
The supplement was developed to provide additional weight loss strategy support for people who are making healthy diet and fitness choices. This product is meant for overweight dieters with a BMI of 29.9 or lower.
It doesn't pretend to do the work for you. The last thing you need is false promises when you're pursuing your weight loss goals. Instead, APEX-TX5 works by giving you helpful benefits to reduce or even eliminate some of the most common challenges to effective weight loss. This helps to explain why customer reviews consistently rave about the successes they have been seeing with the added support for their weight management strategies.
What's in APEX-TX5?
All the ingredients in APEX-TX5 have undergone clinical research. The formula is composed of:
Beta-Phenylethylamine HCl
Each of those substances contributes its own benefits on its own while complementing each other as well. This way, you can know you're getting the most from ENERGY BOOSTING and HEALTHY METABOLISM SUPPORT.*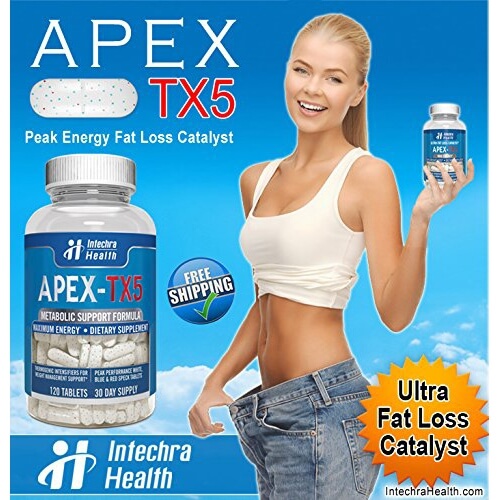 Benefits of APEX-TX5 Ingredients
MAXIMIZED FAT-BURNING WORKOUT PERFORMANCE*

– There are few things more frustrating than dragging yourself up off the couch do a workout, only to find that you're simply not getting everything out of it that you'd hoped. You're fatigued and sluggish, so you're not performing at your best. As a result, you're not getting your top calorie and fat burn out of your workout, either. That's a lot of wasted time and effort. When your energy levels are boosted, it's much easier to pour yourself into each exercise and, as a result, get the best possible outcomes from them.

ENHANCED THERMOGENESIS*

– To improve the outcomes of your workouts even more, the thermogenesis promoting ingredients in APEX-TX5 give you the confidence in knowing that your metabolism is fully supported throughout every workout. This means you'll be doing your exercises with the knowledge that your metabolic rate is working with you, not against you.

INCREASED FOCUS and IMPROVED ALERTNESS*

– Among the hardest parts of a lifestyle change is just that – making the change. You need to learn what choices you should be making and how to properly incorporate them into your life for every snack and meal. Added focus and alertness helps you to keep on top of your game. You'll get over the learning curve and have what it takes to consistently make smart eating choices. Use this advantage to stick to your positive eating strategy and establish healthy eating habits you'll be able to maintain over the long term.

HIGHER ENERGY LEVELS*

– If fatigue has been standing in the way of your motivation to keep making the right eating choices or of even getting up to do your exercises, let the added energy levels from APEX-TX5 sweep that challenge away. When you're powered up with energy, it becomes much easier to remain driven and ready to take on changes, try new things or take part in activities that require lots of energy to do them properly. Suddenly, your new lifestyle will feel far more achievable when you're not feeling exhausted all the time.
Your Goals Are Within Your Reach
You Have the Strategy and APEX-TX5 Has the Support You Need to Get There!