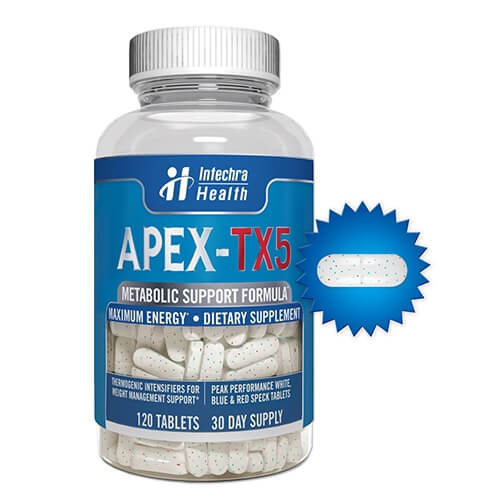 What Is APEX-TX5?
APEX-TX5 is a dietary supplement sold in tablet form. The tablets are white with blue and red specks to make them easy to identify.
The ingredients comprising these pills are
Beta-Phenylethylamine HCl
How to Use APEX-TX5
To take APEX-TX5 according to the package directions, swallow 2 tablets whole, twice per day with food. Do not take these tablets within 5 hours of going to sleep. This product was developed for use in conjunction with a calorie-reduced diet and regular physical fitness program.
What to Do if You Miss a Dose
If you miss a dose, simply skip it. Wait until the next dose and take it as recommended. Do not double the next dose.
What Should You Know Before Using APEX-TX5?
APEX-TX5 is not intended for pregnant women or nursing mothers, nor is it meant for women trying to become pregnant.  This product is not intended for children younger than 18 years old or people at any age taking prescription drugs.  Consult a licensed Doctor before using this product if you have – or have a family history of – health conditions including but not limited to high blood pressure, cardiac arrhythmias, phenylketonuria, kidney, heart, liver, thyroid, or psychiatric disease, diabetes, pheochromocytoma, anemia, recurrent headaches, asthma, anemia, nervousness, depression, anxiety, other psychiatric conditions, Parkinson's disease, peptic ulcers, glaucoma, prostate enlargement, difficulty urinating, or seizure disorder.  Contact your Physician before taking these pills if you are using any other dietary supplements or over-the-counter drug containing ephedrine, pseudo-ephedrine, or phenylpropanolamine (commonly used ingredients in asthma, allergy, cold and cough, or weight control medications).  If you are using a monoamine oxidase inhibitor (MAOI) do not use this product. Do not use it if you are using any other prescription drug including antiplatelet or anticoagulant medications.  If you experience severe headache, dizziness, a rapid heartbeat, shortness of breath or any other severe symptoms, discontinue use and immediately contact a licensed qualified health care professional such as a physician. Individuals consuming caffeine in conjunction with APEX-TX5 may experience serious adverse health effects.  Individuals with sensitivities to caffeine's effects should speak with a Physician before taking this product. Using this product improperly could be hazardous to a person's health.
What Are APEX-TX5's Potential Side Effects?
When APEX-TX5 is used according to the package directions, the user should not experience side effects.  That said, individuals with stimulant sensitivities may experience excitement and/or a jittery feeling.  As is the case with any product, there is a possibility of allergic reaction to any of the ingredients.  If you have a known allergy to any of the ingredients in these pills, do not use this product. If you experience any unexpected symptoms while taking these tablets, immediately discontinue use. If the symptoms are severe, seek immediate medical assistance.